Top Features of the 2023 Honda CR-V: A detailed look at the standout features of the 2023 CR-V, such as safety tech, infotainment system, and interior design. The 2023 Honda CR-V raises the bar in the compact SUV segment with a perfect blend of style, technology and performance. With a host of standout features, this vehicle meets the needs of today's drivers looking for both comfort and functionality. In this article, we will explore the key features of the 2023 CR-V, covering its safety technology, infotainment system, and interior design.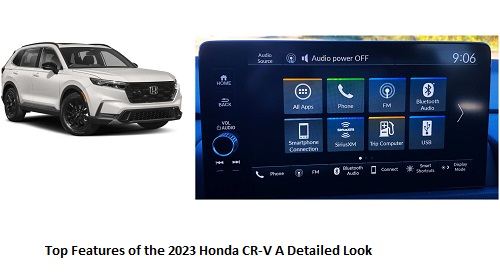 2023 Honda CR-V Safety Technology
Safety is a paramount concern for any vehicle owner, and the 2023 Honda CR-V addresses this with a comprehensive suite of cutting-edge safety technologies. The Honda Sensing® suite is now standard on all trim levels, offering a range of features designed to keep you and your passengers safe on the road.
Low-speed adaptive cruise control
This system uses radar and camera technology to maintain a set following distance behind the vehicle in front. It can even bring the CR-V to a complete stop and re-accelerate in traffic for a seamless driving experience.
Lane Keeping Assist
The Lane Keeping Assist System (LKAS) helps keep the CR-V centered in its lane by gently adjusting the steering if it senses the vehicle drifting out of its lane. This feature is especially valuable on long trips or during moments of distraction.
Collision Mitigation Braking System
If the CR-V senses an imminent frontal collision, this system can automatically apply the brakes to reduce the severity of the collision or, in some cases, prevent it altogether.
Lane Departure Mitigation System
This feature is designed to detect if the CR-V is, about to leave the road unintentionally. It can provide steering assistance and apply the brakes to keep the vehicle on the road.
2023 Honda CR-V Infotainment System
The 2023 Honda CR-V is equipped with an advanced infotainment system designed to meet the needs of tech-savvy drivers. The intuitive interface and wealth of features make every drive a pleasure, whether you're navigating the city or taking a long road trip.
Touch-screen display
The CR-V features an easy-to-use, high-resolution touch-screen display that serves as a command center for various functions. With its responsive interface, accessing your favorite apps, navigation and media has never been easier.
2023 Honda CR-V Apple CarPlay® and Android Auto™ Integration
Seamlessly integrate your smartphone with the CR-V's infotainment system using Apple CarPlay or Android Auto. Access your favorite apps, send messages, make calls and more – all while keeping your eyes on the road.
2023 Honda CR-V Premium audio system
For audiophiles, the CR-V's available Premium Audio System delivers a high-quality listening experience. With crystal-clear sound and immersive surround sound capabilities, your favorite music and podcasts come to life.
2023 Honda CR-V Interior Design
The interior of the 2023 Honda CR-V is, designed with both style and comfort in mind. From the quality of materials to the layout of controls, every aspect has been carefully considered to create an inviting and functional space.
Spacious cabin
The CR-V offers ample room for passengers and cargo. With generous legroom and well-padded seats, both short and long trips are comfortable for all occupants.
Versatile seating and cargo configurations
The CR-V offers flexible seating and cargo configurations, making it easy to adapt to your specific needs. Whether you need extra cargo space for a weekend getaway or want to maximize passenger seating, the CR-V has you covered.
2023 Honda CR-V Premium materials
The interior is, crafted with premium materials that provide a sense of luxury and refinement. Soft-touch surfaces, premium upholstery and thoughtful finishes contribute to an upscale ambiance.
2023 Honda CR-V Pricing Information
As of January 2022, the starting price for the 2023 Honda CR-V varies by trim level and optional equipment. The base LX trim typically starts at around $26,000, while higher trims with additional features can range up to around $39,000. It's worth noting that prices can vary based on location, dealership, and any ongoing promotions or incentives.
In conclusion, the 2023 Honda CR-V impresses with its array of standout features, including advanced safety technology, a feature-rich infotainment system, and a thoughtfully designed interior. With a starting price that offers excellent value for its class, the CR-V is, a compelling choice for drivers seeking a versatile and reliable compact SUV.