2023 Honda CR-V Trim Levels Explained: An overview of the different trim levels available for the 2023 CR-V, and the features that come with each. The 2023 Honda CR-V continues to be a top contender in the competitive compact SUV market, known for its reliability, versatility, and impressive array of features. With several trim levels to choose from, it's important to understand the differences between them in order to make an informed decision. In this article, we'll provide a comprehensive overview of the various trim levels available for the 2023 CR-V, along with the features that come with each.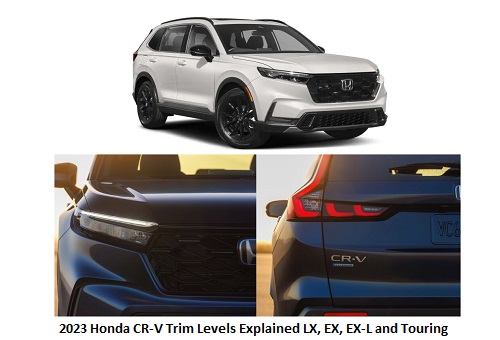 1. 2023 Honda CR-V LX
The base trim level, the LX, provides a solid foundation of features for the 2023 CR-V. It comes equipped with a 1.5-liter turbocharged four-cylinder engine, producing 190 horsepower, paired with a continuously variable automatic transmission (CVT). Standard features include:
17-inch alloy wheels
LED headlights and taillights
Dual-zone automatic climate control
5-inch infotainment display with Bluetooth and USB connectivity
Honda Sensing suite of driver assistance features (adaptive cruise control, lane-keeping assist, and more)
Price: Starting at $26,000 MSRP.
2. 2023 Honda CR-V EX
Stepping up to the EX trim level adds a number of desirable features and technologies to the 2023 CR-V. It builds on the LX trim and includes:
Power moonroof
Heated front seats
Next, 7-inch infotainment touchscreen for 2023 CR-V with Apple CarPlay and Android Auto compatibility
Blind Spot Monitoring with Rear Cross Traffic Alert
Keyless entry with push-button start
In addition, the EX trim level offers an optional all-wheel-drive system for enhanced traction and stability.
Price: Starting at $29,500 MSRP.
3. 2023 Honda CR-V EX-L
The EX-L trim level further elevates the luxury and comfort of the 2023 CR-V. It includes all the features of the EX trim level, plus
Leather-trimmed interior
Power driver's seat with memory settings
Auto-dimming rearview mirror
8-speaker premium audio system
Available navigation system
The EX-L trim level is a great choice for drivers seeking a more refined driving experience.
Price: Starting at $32,000 MSRP.
4. Honda CR-V Touring
At the top of the lineup is the Touring trim level, which offers the most comprehensive set of features and technologies for the 2023 CR-V. It includes all the amenities of the previous trims, plus
19-inch alloy wheels
Hands-free power liftgate
LED fog lamps
Roof rails
Heated steering wheel
Wireless phone charging
The Touring trim level represents the pinnacle of luxury and comfort in the 2023 CR-V.
Price: Starting at $35,500 MSRP.
It's worth noting that prices may vary based on additional options, packages and regional factors. In addition, dealer promotions and incentives may affect the final purchase price.
In summary, the 2023 Honda CR-V offers a range of trim levels to suit different preferences and budgets. Whether you prioritize affordability, advanced features, or luxury amenities, there's a trim level to suit your needs. By understanding the key differences between each trim level, you can make an informed decision when selecting your 2023 CR-V.