2023 Honda CR-V Technology and Infotainment: An exploration of the tech features, including the infotainment system, connectivity options, and driver-assistance technology. The 2023 Honda CR-V is, poised to set a new standard in the compact SUV segment with its impressive array of technology features.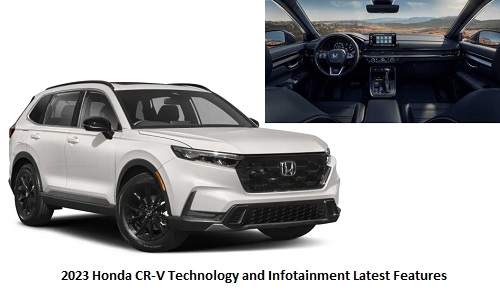 From its advanced infotainment system to its cutting-edge driver-assist technology, the CR-V offers a seamless blend of convenience, connectivity and safety. In this article, we'll explore the key technological aspects of the 2023 Honda CR-V, providing an in-depth look at its infotainment system, connectivity options, and driver-assist technology.
2023 Honda CR-V Infotainment System
At the heart of the 2023 Honda CR-V's technological offerings is, its intuitive and user-friendly infotainment system. The centerpiece of this system is, a high-resolution touchscreen display available in both 7- and 9-inch configurations, depending on trim level. The larger 9-inch display provides a spacious and easy-to-read interface for accessing various functions.
The interface is, responsive, with crisp graphics and an intuitive menu layout. Navigating through menus and accessing features is, a breeze thanks to the system's user-friendly design. The touchscreen also supports multi-touch gestures, enabling pinch-to-zoom and swipe functions similar to a smartphone or tablet.
2023 Honda CR-V Connectivity Options
In the 2023 CR-V, Honda has prioritized seamless connectivity to meet the demands of today's drivers. The SUV is, equipped with Apple CarPlay and Android Auto integration, allowing users to effortlessly connect their smartphones to access their favorite apps, music and navigation. These features enable hands-free operation, minimizing distractions on the road.
For audiophiles, the CR-V offers an available premium audio system with multiple speakers strategically placed throughout the cabin for a rich and immersive listening experience. In addition, the inclusion of multiple USB ports ensures that everyone in the vehicle can keep their devices charged and connected.
Driver Assistance Technology for 2023 Honda CR-V
The 2023 Honda CR-V is, equipped with a comprehensive suite of advanced driver assistance features, collectively known as Honda Sensing. This suite includes:
Adaptive Cruise Control (ACC) with Low-Speed Follow: This system helps maintain a set speed and following distance on the highway, automatically adjusting speed to maintain a safe distance from the vehicle ahead.
Lane Keeping Assist (LKAS): LKAS helps keep the CR-V centered in its lane by gently adjusting the steering if it senses the vehicle drifting out of its lane.
Collision Mitigation Braking System (CMBS): CMBS is designed to help prevent accidents by applying the brakes when a potential collision is detected, providing an extra layer of safety.
Road Departure Mitigation (RDM): RDM can detect if the vehicle is drifting off the road and provide steering assistance to keep it on track.
Traffic Sign Recognition (TSR): TSR uses a forward-facing camera to detect traffic signs and display them on the infotainment screen, helping drivers stay informed about speed limits and other important information.
2023 Honda CR-V Pricing (as of November 2023)
The 2023 Honda CR-V starts at a base price of $27,500 for the LX trim. As you move up the trim levels, which include EX, EX-L, and Touring, you'll find additional features and amenities, with prices ranging from $30,500 to $36,500.
Conclusion
The 2023 Honda CR-V impresses with its comprehensive technology offerings, combining an intuitive infotainment system, seamless connectivity options, and an advanced suite of driver-assist technologies. With a starting price that offers excellent value, the CR-V is a compelling choice for those seeking a compact SUV that prioritizes tech-savvy convenience and safety.